Sweet Emu Bush - 500ml
Regular price
Sale price
$32.99 AUD
Unit price
per
Sale
Sold out
Indulge in Sweet Bliss: Vanilla Caramel Body Wash Delights
✔ Irresistible scent
✔ Gentle cleansing
✔ Skin hydration
✔ Daily use
Looking for a body wash that won't dry your sensitive skin? Yaye's Ochre Body Wash hydrates your skin while safely removing germs and bacteria.

Description

Suitable for daily use, Yaye's Aboriginal Body Wash contains extracts of the powerful Australian native ingredient Emu Bush (Utnerrenge), which has been used as a natural body wash to treat dry and irritated skin by Indigenous Australians for thousands of years.


When paired with vanilla, which helps promote skin health, you will be treating your skin to the ultimate body washing experience.

For unequalled moisturising and anti-aging benefits use Ochre Aboriginal Body Butter after washing with Ochre Aboriginal Body Wash.
How to use

Apply all over the body and massage to create a rich foam. Rinse well. Use Yaye's Ochre Aboriginal body butter for best results.
Ingredients

Aqua (Water), Sodium Laureth Sulfate, Cocomide Diethanolamine, Cocoamidopropyl Betaine, Cocamine Oxide, Ammonium Lauryl Sulphate, Glycerine, Sodium Chloride, Phenoxyethanol, Citric Acid, Disodium EDTA, Utnerrenge Extract- Eremophila Longifolia (Emu Bush) and Fragrance.
View full details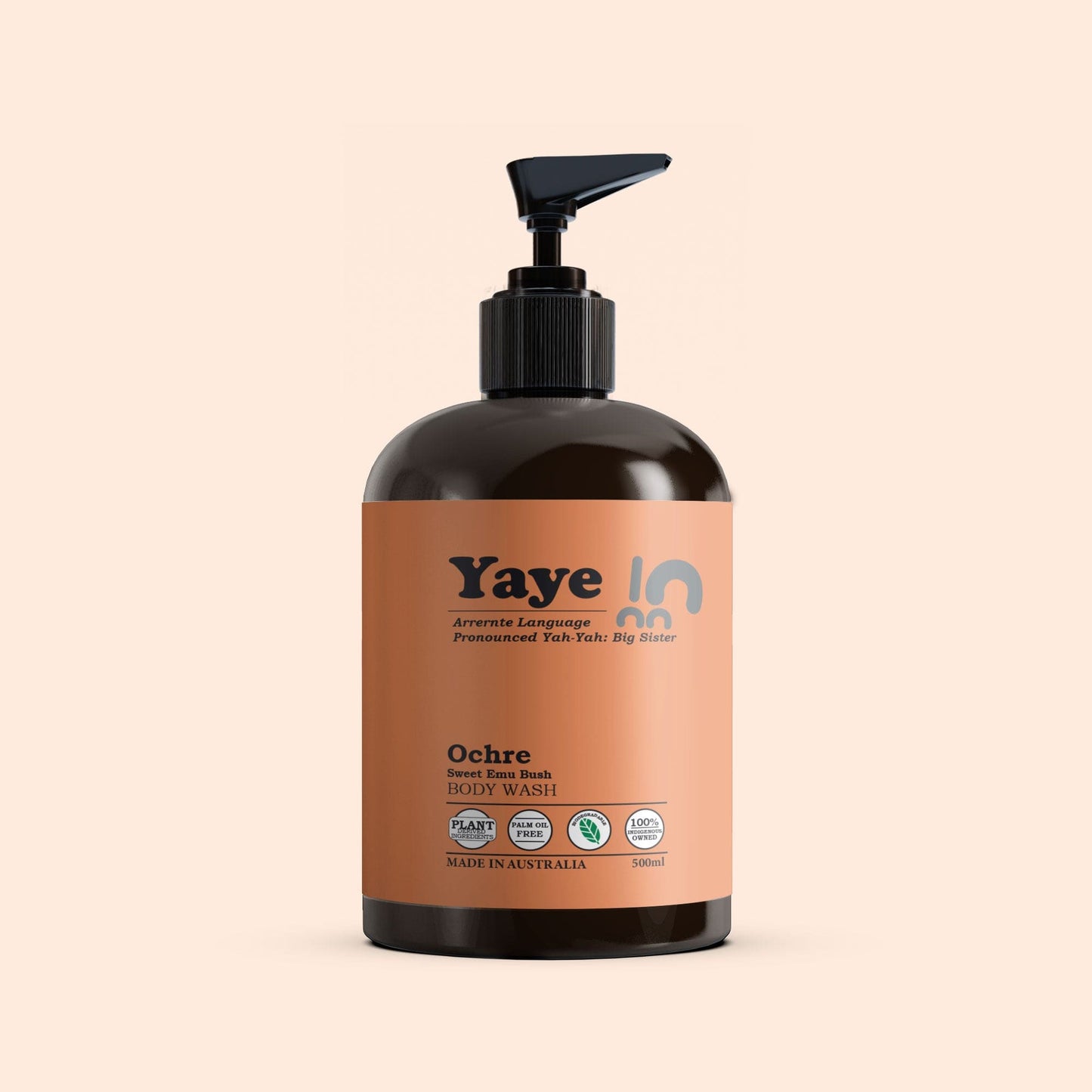 Soothe dry and irritated skin, relieve burns and sores, reduce signs of aging, and assist with after-sun care with this native Australian plant extract.
THE PRODUCT CONTAINS
EMU BUSH
OR EREMOPHILA LONGIFOLIA
Arrente Name: Utnerrenge
Pronounced ~ Ort na rung CLEAN, SAFE AND OH-SO GENTLE
Ten guilt-free reasons to choose Yaye
✔ Suitable for Vegans
✖ No Parabens
✔ Ethically Sourced
✖ No harsh chemicals
✔ Bush Medicine Extracts
✖ No Alcohol
✔ Australian Made
✖ No Formaldehyde
✔ Recyclable Packaging
✖ Not Tested on Animals